The magic of Jolson in this show could be seen in his opening number, "Rock-A-Bye Your Baby with a Dixie Melody," in which Jolson seemed to sing the first chorus over the heads of the audience, the move into the people, yearning for them to embrace him. Another song, "'N' Everything," was singled out by Gilbert Seldes, detailed in a quote from Goldman's Jolson - The Legend Comes To Life, when he wrote:
In the first weeks of Sinbad, he sang the words of "'N' Everything" as they are printed. Gradually (I saw the show in many phases), he interpolated, improvised, always with his absolute sense of rhythmic effect; until at the end it was a series of amorous cries and shouts of triumph to Eros.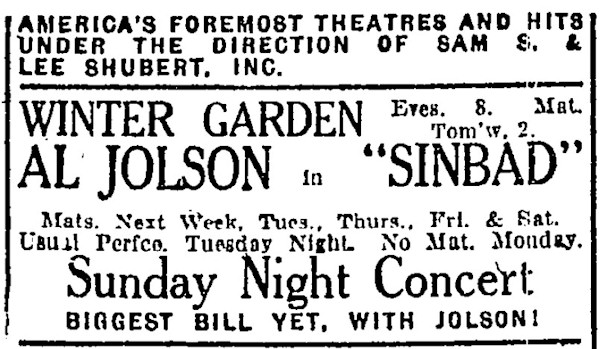 Here is a photo of the company of Sinbad, with Al Jolson front and center: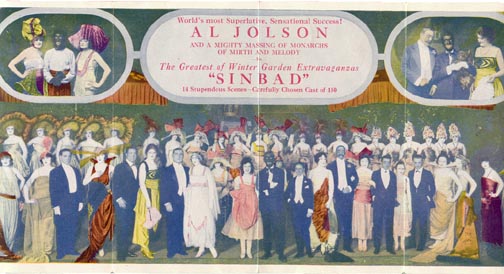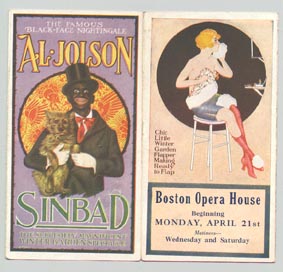 The show tried out at the Sam S. Shubert Theatre, in New Haven, Connecticut, from February 4-9, 1918, then moved to the Winter Garden in New York, where it ran through July 6, 1918. Following that, the show toured the US and Canada, finally bringing down the curtain in June, 1921.
At the start of the production of Sinbad, there were already songs in the score that were destined to be Jolson classics; "Why Do They All Take The Night Boat To Albany?," "Rock-A Bye Your Baby with a Dixie Melody," and "'N' Everything." But as the production went on, Jolson picked up a few more songs that he added to the performance. The sheet music covers below represent just a few of those songs.