---

|The IAJS|Culver City, California 2017 Jolson Festival
---
---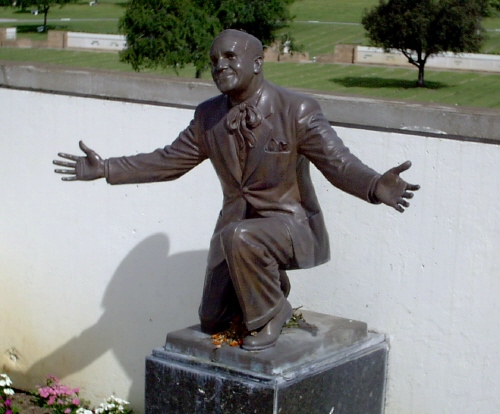 International Al Jolson Society
67th Anniversary Jolson Festival
Thursday, May 18, 2017 through Sunday, May 21, 2017
DoubleTree by Hilton Hotel
Culver City, California
---
---
David Griem and Jan Hernstat are hard at work to make this Jolson Festival in the Los Angeles area a special event. Check out these documents to get a look at the plans, and send in your reservation today!
---
---
---
---
---
Richard Halpern passes along the following updated information:
Richard Halpern in:
Al Jolson: "The Jazz Singer", 1927, and The Great War
RICHARD HALPERN gives a tribute to "The World's Greatest Entertainer", AL JOLSON and Warner Brothers' supreme triumph, 1927's "The Jazz Singer" on that film's 90th anniversary.
The year 1927 also produced many songs that JOLSON sang throughout his career, and some of those will be showcased as well.
HALPERN also gives tribute to JOLSON and his songs from World War I (The Great War) which celebrates its centennial this year.
Joining RICHARD HALPERN for this stellar evening will be the popular vaudeville team of EVANS & ROGERS providing their special brand of vocal harmonies on several JOLSON tunes as well as some WWI favorites and even an appearance by "EDDIE CANTOR".
Florida's very own NIGEL DREINER ("Mr. Sunshine") rounds out the performing roster, singing a selection of JOLSON favorites and more.
Musical accompaniment for this evening's performances will be provided by the BLUE SERENADERS, RICHARD HALPERN'S 5-piece dance orchestra, backing up the vocalists and playing some hot and snappy vintage instrumentals for listening and dancing pleasure.
This show is the headlining performance spectacular of the International AL JOLSON Society's 2017 Festival Weekend.
DINNER & SHOW: $75.00 (Choice of chicken, beef, or tilapia. Please specify your selection.)
SHOW ONLY: $35.00
FESTIVAL FULL ONE-DAY PASS: $90.00
JOLSON FESTIVAL FULL WEEKEND PASS: $175.00
Please make checks or money orders payable to:
The International Al Jolson Society
and mail to:
Sandra Gerloff
419 Glenwood Dr.
Douglassville, PA 19518

If you came here from a link or search engine
Click here to return to the main page of this site
---
This listing and material Copyright © 1995-2017 Marc I. Leavey, M.D. Baltimore, Maryland
Updated 04 Sep 16
Updated 12 Mar 17
Updated 14 Apr 17
Updated 23 Apr 17