---

|The Man|Jolson's Theatre
---
---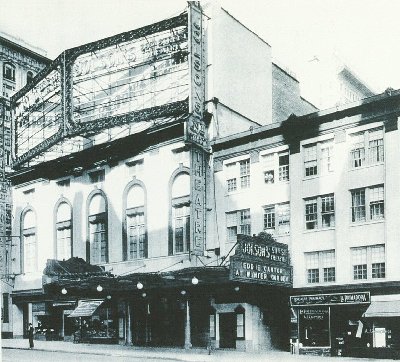 Our Sincere Thanks and Best Wishes to John Treasure for this photograph.

In 1921, Al Jolson was to have opened his show "Bombo" at Shuberts' Winter Garden Theatre, but the Shuberts' plan to use that house for vaudeville had them moving the show uptown to the newly built Imperial Theatre, across from Central Park at 59th Street. When Jolson balked at the move, Lee Shubert renamed it to Jolson's Fifty-ninth Street Theatre, making Jolson, at 35 years old, the youngest man to have a theatre named for him in American history. Jolson's "Bombo" opened the house on October 6, 1921, six years to the day before the opening of "The Jazz Singer," the first talking picture.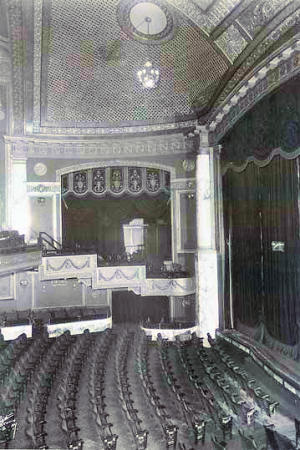 Subsequently, Sigmund Romberg, who had written many of Jolson's scores, including that for "Bombo," saw his operetta, "The Student Prince," opened in 1924; its run of 608 performances was a record for the 1920s. It was during the run of "The Student Prince" that Jolson's next show, "Big Boy," moved back to the Winter Garden, making "Bombo" the only show that Jolson played at his namesake venue.
It was renamed The Central Park Theatre in 1931, and then The Shakespeare Theatre in 1932. In 1934, it was again reborn as the Venice Theatre. In 1937, Orson Welles and company marched their production of "The Cradle Will Rock" into the theatre and performed it from seats in the audience (because Actor's Equity ordered the actors not to perform on stage).
In 1942 it reassumed Jolson's name, only to briefly be known as the Molly Picon Theatre the next year. That name lasted four months...or until the show starring Molly Picon, "Oy Is Dus a Leben!," closed. By the end of 1943 it was again Jolson's 59th Street Theatre, showing foreign films.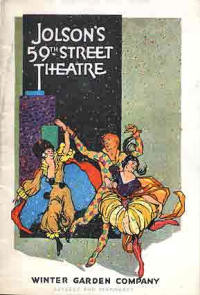 But in 1944, the theatre saw its final days play out as it was renamed to The Century, and saw openings of the Cole Porter adaptation of Shakespear's "Taming of the Shrew," "Kiss Me Kate;" as well as a later Romberg operetta, "Up In Central Park."

It was finally shuttered as a theatre in 1954, when NBC bought it for television use. Among the productions shot at the facility was Jan Murray's "Treasure Hunt" program.
The building, suffering the infirmities of age and disuse, was finally demolished in 1962. A walk along 59th Street today shows no sign of this once famous theatrical venue.
---
---
If you came here from a link or search engine
Click here to return to the main page of this site
This listing and material Copyright © 1995-2017 Marc I. Leavey, M.D. Baltimore, Maryland
Updated 13 Jan 08
Updated 15 Jan 17